Social Problems Journal
Social Problems Journal Online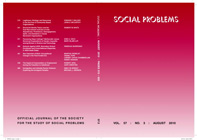 Social Problems brings to the fore influential sociological findings and theories that have the ability to help us both better understand--and better deal with--our complex social environment.
SSSP is pleased to announce that Social Problems is now available online for all SSSP members. Please click here to visit our members-only area for access to Social Problems. All issues from 1953 - current are available.
If you would like to receive Table of Contents notifications for Social Problems, you must create a JSTOR account. To do this, simply go to the general JSTOR Social Problems page. On the right hand side, you'll see a subheading titled: Journal Tracking. Underneath this there is an option to either "Receive updates by email (eTOC)"or for an RSS feed. Click on the "Receive updates by email (eTOC)," and this will prompt you to a screen to create a JSTOR account (which is free). Once you have filled out this information, you will be signed up to receive e-mail notifications of the TOC for new issues of Social Problems.