Social Problems Journal
Social Problems Journal Online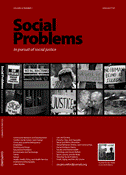 Social Problems brings to the fore influential sociological findings and theories that have the ability to help us both better understand--and better deal with--our complex social environment.
SSSP is pleased to announce that Social Problems is now available online for all SSSP members. Please click here to visit our members-only area for access to Social Problems. All issues from 1953 - current are available.
If you would like to receive Table of Contents notifications for Social Problems, please follow the directions on the following page: http://www.oxfordjournals.org/en/connect/email-alerts.html.
Subscribe to Social Problems through a SSSP membership! Click here for more information. Authors may view complete information on our electronic manuscript submission process. Non-members may view article abstracts and purchase articles directly from Oxford University Press by following one or more of the links below.