Global Agenda for Social Justice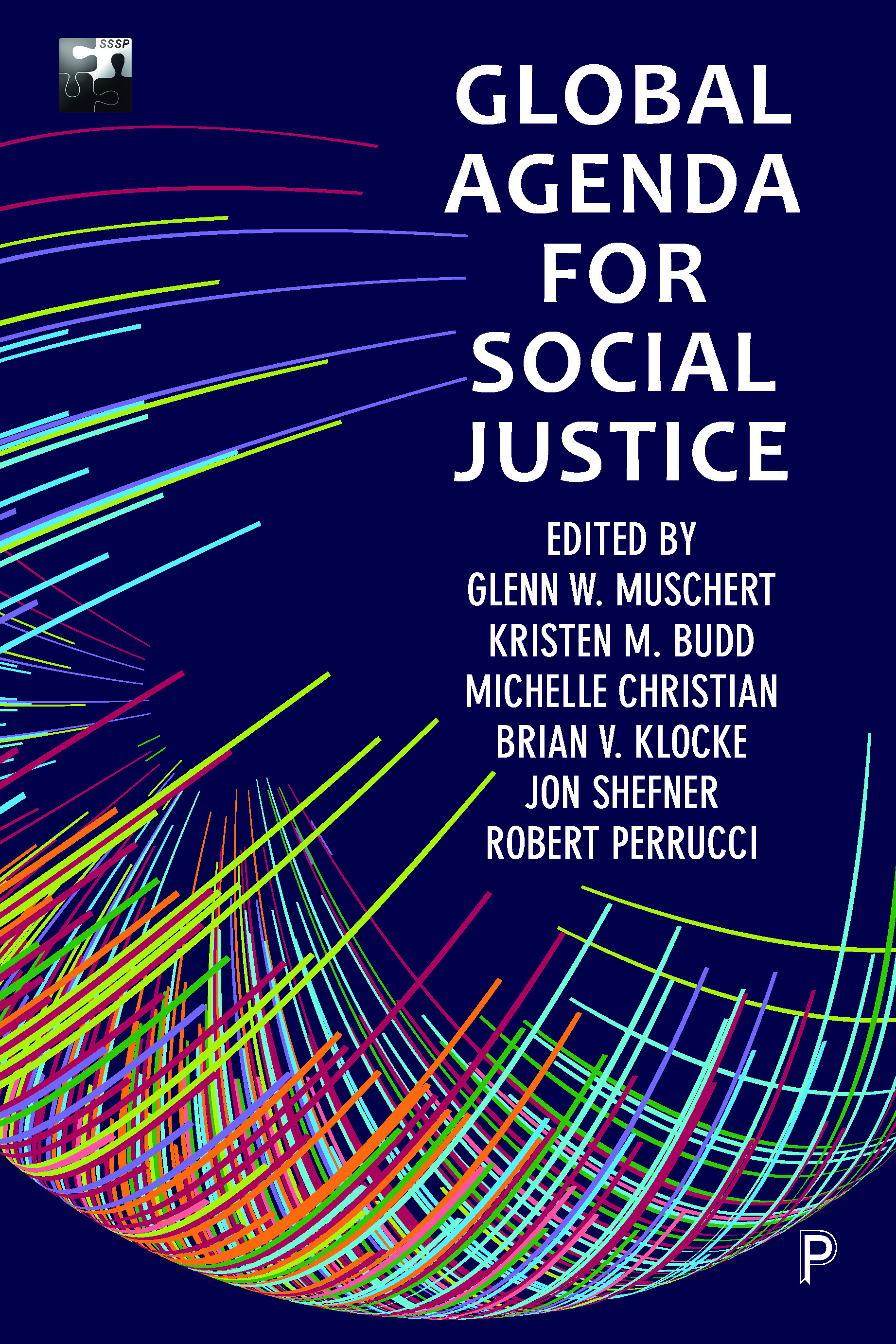 The Global Agenda for Social Justice provides accessible insights into some of the world's most pressing social problems and proposes international public policy responses to those problems. Written by a highly respected team of authors brought together by the Society for the Study of Social Problems (SSSP), chapters examine topics such as criminal justice, media concerns, environmental problems, economic problems, and issues concerning sexualities and gender. They offer recommendations for action by governing officials, policy makers, and the public around key issues of social justice. It will be of interest to scholars, practitioners, advocates, and students interested in public sociology, the study of social problems and the pursuit of social justice.
---
President's Welcome
Historians will look back at the ongoing year as a global turning point. The world is changing, and not all of the changes are good, healthy, or just. Right-wing movements in Europe are on the rise, the earth is warming at an alarming rate, and global economic inequality is increasing. Further, there is a relentless assault on core values, including democracy, freedom, and equality. In this context, the Global Agenda for Social Justice is attempt to address these issues and look for practical solutions that lead us toward a more democratic, free, and equitable world. As the President of the Society for the Study of Social Problems (SSSP), it is my honor to present some of the best scholars in our organization as they address some critical social problems of our time. As you may know, SSSP is an organization committed to scholar activist in the pursuit of social justice. It serves not only as a place of respite, but also a gathering space for those seeking to change the current situation. I am proud to be part of an organization that produces such a fine publication. Thank you to all the contributing authors and to the editorial committee, including Glenn W. Muschert, Kristen Budd, Michelle Christian, Brian V. Klocke, Jon Shefner, and Robert Perrucci. May your collective work reach the ears of the powerful.
Sincerely,
Luis A. Fernandez, Northern Arizona University
SSSP President, 2017-2018

---
Check out the latest review of Global Agenda for Social Justice!
Citizen's Basic Income Trust says "…this is an inspiring book. The authors have set themselves a vast agenda, they have carefully described some important social problems, and on the basis of relevant research they have proposed solutions, thus relating the academy to policy activity."
Please find attached the full review and the link to the review is below:
https://citizensincome.org/book-reviews/muschert-et-al-global-agenda-for-social-justice/
---
Access Options
The Global Agenda for Social Justice is now available for wide public distribution.
Please click here for a PDF of the
Global Agenda for Social Justice.

Purchasing Options:
The Agenda is available in hard copy and e-reader versions for a nominal fee. Please consider purchasing the Agenda to support the SSSP!

Click here for Policy Press purchasing information.
Click here for North and South American purchasing information.
Table of Contents
Editors: Glenn W. Muschert, Kristen M. Budd, Michelle Christian, Brian V. Klocke, Jon Shefner, and Robert Perrucci
FRONT SPIECES
President's Welcome
by Luis A. Fernandez
Editorial Introduction
by Glenn W. Muschert and Kristen M. Budd
SECTION I

POLICING & CRIMINAL (IN)JUSTICE



Chapter 1. The Worldwide War on Drugs: Advancing Reforms, Circumventing Resistance
by Robert Aponte and Hannah Hurrle
Chapter 2. Global Police Discrimination
by Craig A. Boylstein

Chapter 3. Wrongful Convictions and Exonerations: Global Data Sources and Other Initiatives
by Tereza Trejbalová and Terance D. Miethe
Chapter 4. Solutions to Ending the Global Social Problem of HIV Criminalization
by Carrie Foote, Edwin Bernard and Eric Mykhalovskiy
SECTION II Environmental Issues
Chapter 5. Radiation Refugees and Chronic Exposure to Ionizing Radiation: The Rights of the Exposed
by Majia Nadesan

Chapter 6. The Effects of "Natural" Disasters on Older Adults in South Asia: The Case of Intersectional Identitie
by Tirth Bhatta, Moushumi Roy, and Nirmala Lekhak
Chapter 7. Energy Democracy: A Just Transition for Social, Economic, and Climate Justice
by Todd E. Vachon and Sean Sweeney

SECTION III Gender and Sexuality

Chapter 8. Fostering Critical Awareness of Masculinity around the World
by Kyle C. Ashlee, Leland G. Spencer, Michael Loeffelman, Brandon Cash, and Glenn
W. Muschert

Chapter 9. Lack of Access to Comprehensive Sexuality Education
by Jacqueline Daugherty and Richelle Frabotta

SECTION IV VIOLENCE AGAINST PRECARIOUS GROUPS
Chapter 10. Violence against Migrants: A Global Analysis
by Rosemary Barberet and Diana Rodriguez-Spahia
Chapter 11. Sex Workers and Coping with Violence: Implications for Policy-Making
by Mangala Subramaniam, Zachary D. Palmer and Vasundhara Kaul

Chapter 12. Genocide and other Atrocity Crimes: Toward Remedies
by Joachim J. Savelsberg
Chapter 13. Torture: Causes, Consequences, and Strategies for Redress and Prevention
by Shannon Golden
SECTION V INEQUALITIES & DISPARITIES
Chapter 14. Want Amidst Plenty: Food Insecurity in Rich Liberal Democracies
by David Reynolds and Miranda Mirosa
Chapter 15. Extending Old-Age Pension Coverage to Workers in the Informal Sector Economy in Ethiopia
by Ajanaw Alemie and James L. Scherrer
Chapter 16. Tackling Digital Exclusion: Counter Social Inequalities Through Digital Inclusion
by Massimo Ragnedda
SECTION VI LOOKING FORWARD
Chapter 17. Global Issues
by Jon Shefner and Michelle Christian
Afterword: Looking Backwards to Move Everyone Forward to a More Inclusive, Just, and Sustainable World
by Brian V. Klocke