Obituaries/Transitions
---
If you are a SSSP member and would like to post an obituary/transition, please contact the Administrative Office at sssp@utk.edu. Obituaries/Transitions will remain posted for 2 years.
---
Gray Arco Cavender III, 1947-2023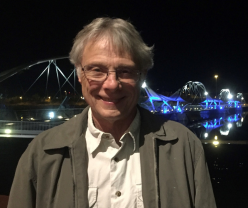 Gray Arco Cavender III passed away on August 8, 2023 from cancer, surrounded by his loving wife, daughter, and son-in-law. Gray served as Professor of Justice Studies at Arizona State University until his retirement in 2017.
He was born on February 24, 1947 to Nell Catherine Choate Cavender and Gray Arco Cavender, Jr. in Princeton, Kentucky, but he grew up in Waverly, Tennessee, where he was a member of the Waverly High School band and a DJ for the local Waverly radio station. He earned his bachelor's degree in Business from the University of Tennessee (1969), followed by his J.D. degree from the University of Tennessee Law School (1971). After law school, Gray worked as a probation and parole counselor for the State of Tennessee Department of Corrections. In 1972, he assumed a position as Staff Attorney and Supervisor of Judicial Planning with the State of Tennessee Criminal Justice Planning Agency, and was eventually promoted to Assistant Director of the agency. While in this position, he also completed a Master's degree in Psychology at Middle Tennessee State University, located in Murfreesboro, Tennessee.
Despite the importance of his position in criminal justice planning, Gray longed to return to academic life, to study criminology in greater depth, and to become a university professor. In 1975 he was accepted into the PhD program in Criminology at Florida State University, and so he packed his bags and moved to Tallahassee. In 1977, he accepted a position as an assistant professor at the growing Arizona State University in Tempe, Arizona. While an assistant professor at ASU, Gray completed his PhD in Criminology from FSU (1979). Gray remained on the faculty at ASU for the next 40 years, rising to the rank of Professor and focusing his research and teaching on media, crime and deviance, punishment, and law and society. Gray played a central role in the creation of the nation's first PhD program in Justice Studies in 1985, serving as its inaugural director. With Pat Lauderdale, he published articles about the rationale for the creation of Justice Studies university degree programs. Over the years, he was a visiting scholar at New York University, John Jay College of Criminal Justice, University of California, Berkeley, Tulane University, and the Institute of Sociology at the Academy of Sciences of the Czech Republic.
Gray was an outstanding teacher and mentor, much admired by students. He was the recipient of several awards for his teaching, and in student exit surveys Gray was frequently mentioned as students' most influential professor. He brought a wide knowledge of literature, history, and popular culture to his lectures and readily offered inspiration, encouragement, and support for research and theoretical projects. He was beloved by his graduate students, many of whom stayed in close touch with him right until his passing. Gray was an incredible mentor of graduate students and junior faculty alike, gently pushing them to be better and to focus on their goals and aspirations. Many students and colleagues have shared the experience of turning to Gray with a worrisome dilemma and receiving a thoughtful, practical solution. Talking with Gray meant everything would be alright. His students have gone on to prestigious careers as university professors, attorneys, and in other professions across the globe.
In addition to his stellar record as a teacher and mentor, Gray was a nationally and internationally recognized expert in crime, punishment, and the study of media coverage of justice issues. He is the author of scholarly articles, book chapters, and academic books. His work focused on the construction of crime, criminality, and justice policies that reinforced societal inequalities. His study of parole was among the first to point out that despite its ostensible rehabilitative purpose, parole actually served as a mechanism for the extension of social control of so-called dangerous populations (Parole: A Critical Analysis, Kennikat Press, 1982). Later, he critiqued the popular turn to the "justice model," which advocated retributivism and just desserts as a justification for punishment policy (e.g., Criminology, 1984). His work on corporate and governmental deviance tackled the issues of why our legal system and popular media often fail to recognize the gravity of organizational wrongdoing. Expression of this theme included analyses of the cases of the Ford Pinto deaths, the Iran Contra Scandal, GM Pickup defects/deaths, and Enron price gouging and disintegration (e.g., Corporate Crime Under Attack: The Fight to Criminalize Business Violence, Anderson, 1987, 2006, with Francis Cullen, William Maakestad, and Michael Benson). He then directed his conceptual and methodological expertise toward media constructions of crime, reality, and justice. He began by focusing on the ways that reality crime television programs presented themselves as falsely authentic to viewers (Entertaining Crime: Reality Television Programs, Aldine Gruyter, 1998, with Mark Fishman). His media studies interests also included the presentation of gender and doing justice in fictional crime programs (Justice Provocateur: Jane Tennison and Policing in Prime Suspect, University of Illinois Press, 2012, with Nancy Jurik). His most recent publications included collaborations with Czech and US colleagues on gender, entrepreneurship and justice.
Gray was actively involved in the American Society of Criminology and the Society for the Study of Social Problems throughout his career. He served on several editorial boards during his career for journals such as Criminology, Justice Quarterly, Crime Media Culture, and served as Budget, Finance and Audit Chair for the Society for the Study of Social Problems.
While at ASU, Gray met a colleague who would later become his romantic partner for over 38 years, Nancy Jurik. Gray and Nancy were also research collaborators, giving presentations and publishing research on gender, work, criminal justice, and entrepreneurship. They spent lots of time traveling, hiking, and seeing many movies that they would talk about endlessly (or so said their friends). In 2017, Gray retired from ASU and began to devote most of his writing to crime fiction. His mystery novels, novellas, and short stories (Death of the Ayn Rand Scholar, The Pandemic Casebook of Jillian Warne, and forthcoming compilation, Echoes from Cherry Bottom) can be found on Amazon.
Survivors include his wife Nancy Jurik, daughter Jennifer Cavender Vaden and her husband James, grandson Michael Cavender Smith and his wife Melissa, and a great-grandson, Leo Smith. Gray was extremely proud of his family. He also had close ties to cousins Miriam Longino, John Longino, Daniel Gray Longino and their families (Sujata, Lela, and Diana). Gray will be missed by many students, colleagues, neighbors and friends. Gray was a kind, intelligent man who was always happy to help his friends and students. He told great stories, whether oral or written, always with a disarming sense of humor. We will miss him very much, but he will live on in our hearts.
There will be a memorial/life celebration event on Friday, October 13, 2023 from 4:30-7:30 pm at the ASU University Club, 425 E. University Dr, Tempe, AZ 85281. Donations in his name can be made to the ASU Foundation for the Gray Cavender Undergraduate Justice Studies Scholarship. Checks can be mailed to PO Box 872401, Tempe, AZ 85287-2401. Condolences or memories can be shared, or information about the memorial obtained by email at CavenderMemorial@gmail.com
Marjorie Zatz, University of California-Merced
Paul Knepper, San José State University
Posted: 09/11/2023
---
Dorothy E. Smith, 1926-2022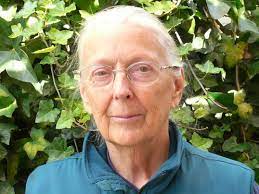 Dorothy E. Smith, the renowned sociological thinker, feminist critic, teacher, and mentor at the center of a large international network of scholarship, died in the early hours of Friday, June 3 after a fall the day before. She had been living in Vancouver, British Columbia.
Dorothy Smith was one of the first women to earn a Ph.D. at the University of California-Berkeley, in 1962. She taught at the University of British Columbia; the Ontario Institute for Studies in Education at the University of Toronto; and after retirement, at the University of Victoria in B.C. Her first book of many, The Everyday World as Problematic: A Feminist Sociology, was published in 1987; the most recent, Simply Institutional Ethnography, co-authored with the late Alison Griffith, was launched in May of 2022.
Smith's feminist critique of sociological theory and methods led her to develop a sociology for (rather than about) women, which developed further as a sociology for people and came to be known as Institutional Ethnography. She received the SSSP's Lee Founders Award in 2017, and was honored with many other accolades from universities and professional organizations throughout the world; in 2019 she received the Order of Canada for her contributions to society. She will be missed by many who studied and worked with her, as well as those who knew her through her writing.
Click here to read a New York Times article honoring Dorothy E. Smith.
A site has been set up where we can post our memories of Dorothy and messages for her family:
https://www.kudoboard.com/boards/92REPim8
Posted: 06/07/22
---
S.M. "Mike" Miller, 1922-2021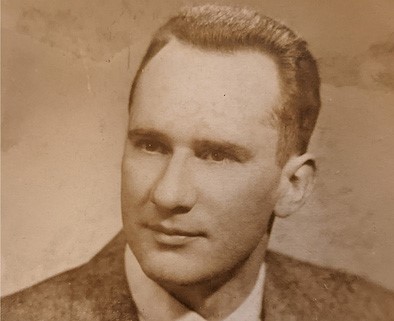 "Miller—who died on October 27, three weeks before his ninety-ninth birthday—was a close advisor to King. He met the civil rights leader in August 1966 when he was invited to speak at the Southern Christian Leadership Conference's annual meeting in Jackson, Mississippi. They developed a friendship and working relationship. Miller wrote speeches, congressional testimony, and book chapters for King, including one on economic policy for the 1967 book Where Do We Go from Here?
Miller was a pioneer in making social science useful for activist, progressive groups in the United States and in other countries. He grew up in an impoverished Jewish immigrant family in New York. As he described in his essay "No Permanent Abode," they were often homeless, frequently evicted from their tenement apartments. Always down-to-earth—a man without pretensions, despite his remarkable professional accomplishments—he never forgot where he came from.
He was trained as an economist at Brooklyn College, Columbia University, and Princeton University, where he wrote a dissertation about leadership and collective bargaining in a local of a national union, a rare topic for economists at the time. He got his first teaching job at Rutgers University, where he taught from 1947 to 1949. Rutgers didn't renew his contract after he attacked the anti-union Taft-Hartley Act during a radio interview and refused to moderate his public statements. By the 1950s, Miller preferred the company of his more radical friends in sociology anyway, and he turned himself into a sociologist, teaching at Brooklyn College, Syracuse University, NYU, Boston University, and Boston College. His brilliant mind and passion for justice inspired generations of students.
"I was stunned by his bold assertion of progressive perspectives in the worst years of the McCarthy period," recalled Dick Flacks, who took a course with Miller at Brooklyn College in 1955 and later became a founder of Students for a Democratic Society and a prominent radical sociologist.
Along with C. Wright Mills and a handful of other sociologists, Miller challenged the dominant view of postwar social science that inequality and poverty were no longer serious problems. In a 1961 article for Dissent, "Are Workers Middle Class?" (co-authored with Frank Riessman), Miller contended that most American workers were not sharing in the benefits of the nation's prosperity: "The wages of large groups of workers, in the South, in New England, and in 'sick' industries are still very low; among workers who suffer most from discrimination—Negroes, Mexicans, and Puerto Ricans—poverty is often extreme." (This was one of many articles Miller wrote for Dissent.)
In all, Miller wrote about 400 articles and eleven books, mostly dealing with poverty and inequality, including Social Class and Social Policy (with Frank Riessman, 1968), The Future of Inequality (with Pam Roby, 1970), Recapitalizing America: Alternatives to the Corporate Distortion of National Policy (with Donald Tomaskovic-Devey, 1983), and Respect and Rights: Class, Race, and Gender Today (with Anthony J. Savoie, 2002). In 1960, for Current Sociology, he wrote the first comparative study of social mobility, pointing out that, contrary to the myth, the rate of downward mobility frequently exceeds the level of upward mobility. He was frequently quoted in the media and liked to write for general audiences, including a regular column for the liberal British magazine New Society."
The above is pulled from an article honoring S.M. "Mike" Miller in Dissent Magazine. Click here to read the entire article.
Posted: 06/24/22
---