Obituaries/Transitions
If you are a SSSP member and would like to post an obituary/transition, please contact the Administrative Office at sssp@utk.edu. Obituaries/Transitions will remain posted for 2 years.
---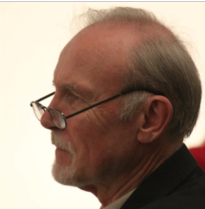 James E. Gruber, Professor Emeritus of Sociology at the University of Michigan-Dearborn, passed away peacefully June 26, 2019, at the Residence of Arbor Hospice. Born on December 31, 1946, in Marshfield, Wisconsin, he is survived by his loving family: wife Sheryl Pearson of Ann Arbor; mother Mildred Kafka Gruber of Marshfield, WI; step-daughters Lee Pearson of Washington, D.C., and Perry (Darin) McKeever of Birmingham, MI; granddaughter Ruby McKeever; and sister-in-law Jan Sherman of Canton, MI. In addition, he is survived by three cherished half-siblings he met in mid-life: Nancy (Louis) Duellman of Fountain City, WI; Judy (Don) Duellman of Marshfield, WI; and Don Ledden of Green Bay, WI. His father, Edwin Gruber, pre-deceased him.
Jim Gruber was an exceptional scholar and beloved teacher and mentor. He was a faculty member in the Department of Behavioral Sciences at UM-Dearborn from 1979 to 2016, a founding member and teacher in the Women's and Gender Studies program, and held numerous administrative and faculty governance positions, notably as Associate Dean of the Division of Interdisciplinary Studies, Chair of Behavioral Sciences, Director of Sponsored Research, and Chair of the Faculty Senate.
It is difficult to imagine a career more distinguished. His research was path-breaking and socially consequential, his teaching transformative, his service engaged and generous. In numerous articles, conference papers, book chapters and books, his scholarship on sexual harassment and bullying was particularly influential, putting those issues into the public domain—internationally as well as nationally--decades before the Me-Too movement. Current scholars on sexual harassment, bullying, and the treatment of women in the workplace consider his work foundational. Even after his passing, his phone continues to ping daily with announcements that yet another scholar has cited one of his articles. His work led to his frequent testimony as an expert witness on behalf of both male and female plaintiffs in sexual harassment cases. He was engaged to work on over 40 such cases, the last on behalf of the EEOC.
His courses on gender roles, social problems, and social psychology were transformative for generations of students—many of whom contacted him over the years to tell him of his influence on their social awareness and career paths. He was particularly proud of the student who first became a district attorney, and later a public defender; the student who went on to become a tenured professor of sociology also specializing in social justice issues; the student who thought grad school was beyond his reach until Jim encouraged him, but then became a distinguished health psychologist…and so many others. His interest in the treatment of women, and in poverty and inequality, arose partly out of the experience of his mother, who was a factory worker and a union steward under particularly harsh conditions, and later a day-care owner with her sister. He was inspired and motivated by her self-reliance, her strength, her optimism, and her sense of empowerment in the face of many social challenges.
Jim made a pilgrimage a couple of years ago to Chapel Hill, NC, where he had attended graduate school at the University of North Carolina, in order to visit and thank one of his academic mentors, Prof. Richard Kramer, long retired. He would want his students to know that he was part of a long chain of nurturing teachers, and that caring begets more caring down the road. He often talked about one of the earliest intellectual influences in his life, Father Thomas Etten, a highly educated Jesuit priest who chose to teach religion in a rural high school in an inspiringly enlightened way. Jim felt that this man's deep reading, curious and questioning nature, and intense critical thinking about the major questions of human experience set him on a path to his own areas of academic focus. Like his mentors, Jim was deeply humane and open-minded, and also intellectually rigorous. He once wrote that he became a sociologist "in order to understand the root causes of social and economic inequality….I have tried through my research, teaching, and public service to advocate for justice and to give a voice to those who are silenced because of prejudice and discrimination." He honored that goal throughout his professional and personal life, studying (and advocating for change around) issues of poverty, homelessness, and hunger; bigotry and hatred; and mass incarceration. In service of his values, he worked with Habitat for Humanity, taught in a women's prison, and supported a host of social justice organizations.
Among his many honors, Jim was the recipient of both the UM-Dearborn campus's Distinguished Research Award and Distinguished Service Award. For his work and advocacy on gender issues he was named the campus's first male recipient of the Susan B. Anthony Award, and he was honored with the University of Michigan's system-wide Sarah Goddard Power Award, granted for "significant achievement in contributing to the betterment of current challenges faced by women." In 2012, he was awarded the College of Arts, Sciences, and Letters' first Collegiate Professorship, the Frances Cousens Collegiate Professorship, named for a pioneering woman and a UM-Dearborn sociologist.
A passionate birder, an avid enthusiast of the outdoors, a dedicated and patient fisherman, and a lifelong learner, Jim was a singularly good man. He was quiet, steady, and full of empathy. He spent 60 years returning every summer to his beloved cove on the Wisconsin River, fishing and communing with his best friends, Henry David Thoreau, St. Francis, and fishing buddy Joe Chenier. He lived his life in joy and awe, embracing travel, nature, and service to others. May he rest in peace, with companionable birds and muskies circling quietly around him.
In lieu of flowers, donations may be made in his memory to any of the following: the UU Congregation, the Nature Conservancy, the Audubon Society, the Human Rights Campaign, Ann Arbor Safe House, the Southern Poverty Law Center, Arbor Hospice, or the ACLU.
Posted: 07/08/19
---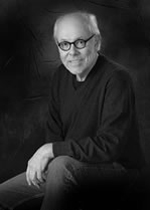 John F. Galliher, 81, of Columbia, passed away Tuesday, May 21, 2019, at Lenoir Woods in Columbia, Missouri. He was born in Minneapolis, Minnesota, a son of the late Frank W. and Rea (Bates) Galliher.
He graduated from Paseo High School in Kansas City. After serving in the U.S. Air Force and receiving his undergraduate degree from the University of Kansas City, John was united in marriage to Jeanne Zuk, who survives at their home.
John went on to earn his Master's and Ph.D. degrees in sociology from Indiana University. He was Professor Emeritus of Sociology at the University of Missouri-Columbia and served as the University's Director of Peace Studies for 16 years. He was a prolific writer of professional books and journal articles and the recipient of many honors and awards including the Maxine Schutz Award for Distinguished Teaching. Colleagues, students and friends describe him as a wonderful friend and mentor; a strong advocate for peace, justice and nonviolence and that person against whom you should measure a good person.
He was a member of numerous professional associations and served as President of The Society for the Study of Social Problems. John enjoyed reading, writing, jazz, his church, travel and especially his family. His career was also his hobby and he often quipped that he would open a Sociology Shop upon retirement.
He was a member of Calvary Episcopal Church, Columbia, serving on its Vestry and various taskforces and committees. A Memorial Service will be held at the church at 11:00 a.m., Tuesday, May 28, 2019.
Along with his wife, John is survived by son, Daniel Galliher (Renee); daughter, Leigh Holliday (Mark); two grandchildren, Lily and Ryan Galliher; brother, James Galliher and grand pets Roxie, Cece, Annabelle and Cash.
John was preceded in death by two brothers, Charles and Thomas.
Expressions of sympathy may be made to Calvary Episcopal Church, Hospice Compassus, Columbia's Parkinson Support Group or the University of Missouri Peace Studies Program.
Arrangements are under the direction of Parker-Millard Funeral Service and Crematory; 12 East Ash Street, Columbia, Missouri, 65203; (573) 449-4153. Condolences may be left online for the family at www.ParkerMillard.com.
Posted: 6/24/19
---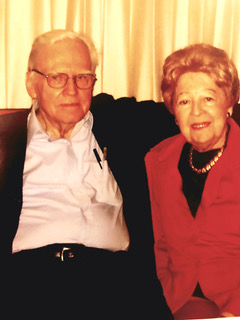 Gideon A. Sjoberg
Gideon A. Sjoberg was born in Dinuba, CA on August 31, 1922. He died in Austin, Texas on December 4, 2018, at the age of 96. His parents were migrants from Finland. His father was a peach farmer in California; his mother had been a nurse in the Finnish Civil War (1917 – 1918). Sjoberg's family were Swedish speaking Finns, an ethnic group within Finns. Sjoberg often made a point of his Swede-Finn background distinguishing as separate from both Swedes and Finns.
After graduating from Kingsburg High School, Sjoberg attended junior college in Fresno where his intellectual journey began. He began reading extensively on various subjects. After finishing in Fresno, Sjoberg enrolled at the University of New Mexico in Albuquerque (where he met his future wife Andree), and from there went to Washington State College (now Washington State University). His interest in comparative sociology was piqued in a reading course with the Anthropologist Allan H. Smith, who guided him in reading about the major cultural areas of the world. After completing his work at Washington State, Gideon and Andree spent the summer of 1949 at UC Berkeley. Sjoberg heard lectures by the China scholar Wolfram Eberhard and Walter Goldschmidt, focused then on preliterate Africa, and Daryll Forde, another anthropologist who worked on preliterate groups in Africa.
Following this summer at Berkeley, the Sjoberg's moved to Austin – thus beginning his 60-year run at the University of Texas at Austin. Over the course of Sjoberg's long academic career, he focused his considerable intellect on three substantive areas: the preindustrial city, methodology, and bureaucracy. Shortly after arriving in Austin, Sjoberg, with Andree's assistance, began to formulate a plan for The Preindustrial City (1960). Two articles on Robert Redfield's work on folk societies prepared Sjoberg to examine an intermediate stage of development between folk societies and industrial ones. He argued that the preindustrial city organized a distinctive spatial configuration of the city around functional requirements of social order that cut across cultural differences.
The Preindustrial City was the first major work by a mid-twentieth century sociologist to take on issues addressed mainly by classicists and anthropologists. Sjoberg took sharp criticism from those quarters, but his work endured and stimulated further work for more than half a century. Second, his work cut against the grain of much American urban sociology which was pre-occupied with the transition from rural, agricultural societies into modern industrial ones. Sjoberg did not criticize nor reject the work of such Chicago sociologists like Louis Wirth's "Urbanism as a Way of Life," but The Preindustrial City was a sharp reminder that sociological theories of cities would have to take account of a distinctive type of city that was being ignored by his contemporaries.
In 2018, Sjoberg had the opportunity to revisit the Preindustrial City in an essay appearing in the Wiley Blackwell Encyclopedia of Urban and Regional Studies (2019). Here, he used the works of economic historian Joel Mokyr (2002, 2005, 2011) to reinforce his argument that pre-industrial social orders were distinctive from scientific, knowledge-based industrial ones.
Sjoberg's methodological contributions were also innovative and include his methodology book (with Roger Nett), his countersystem analysis, and his encouragement of comparative sociology, case studies, and autobiographies in sociological analyses. His methodology book used a sociology of knowledge framework and emphasized that researchers must critically consider the ethical and political pressures they confront when collecting and analyzing data. The salience of this perspective was driven home in the most recent financial crisis when it came to light that the bond rating firms -- Standard and Poor's and Moody's -- were assigning less-than objective ratings to what were in fact junk bonds which ultimately contributed to the financial crisis.
Sjoberg (and Cain's) theorizing on a counter system to reset the status quo is another idea that has caught on. Eminent sociologist, Joe Feagin, made a counter system the defining feature of what he calls "liberation sociology"; so too did Steve Lyng in his analysis of the American health care system. Sjoberg also (2018) made a counter-system argument for dismantling the prison-industrial complex.
At a time when many academics begin winding down, Sjoberg was just hitting his stride. His work stemming in the 1960s on "Bureaucracy and the Lower Class" primed him to see the major shifts in political economy underfoot in the United States. The growth he witnessed at the University of Texas at Austin provided him a birds-eye view of the macro and micro processes that were unfolding across the country, indeed the globe. Furthermore, key works undertaken by his graduate students during this time including Paula Miller, Dan Rigney, Sara McLanahan, Sherri Grasmuck and Norma Williams aided his knowledge of and expanded his theorizing on the future, the role of large-scale bureaucracies, secrecy and human rights. The edited volume A Critique of Contemporary American Sociology (1992) (with Vaughn and Reynolds) crystallized his views on bureaucracy, ethics and human rights making explicit problem areas that many sociologists avoid. Together with Ted Vaughn, Sjoberg came to the realization that in order to understand markets, one also had to understand the role of large-scale organizations in the economy.
Sjoberg was highly influenced by the works of Ulrich Beck and Anthony Giddens. He shared their concern regarding the future and risks but was critical of their failure to satisfactorily grapple with the role that large-scale organizations play in this arena. The expansive role that multinational corporations play in the world, and the inadequacy of nation-state specific laws to address global human rights abuses, led Sjoberg to adopt a broad human rights perspective that extended beyond the typical citizenship/national sovereignty perspectives so as to confront the power being wielded by global organizations. Sjoberg's perspective on human rights was one that recognized that all people have a right to dignity, respect and equality regardless of citizenship.
The final leg of Sjoberg's academic journey is revealed in his scholarship record after he turned 75 years of age in which he connected many of his strands of research. His preoccupation with large-scale organizations, the future and risk contributed to his articles and book chapters on the Sociology of Human Rights, Corporations and Human Rights, The Social Control Industry and Human Rights, Countersystem Analysis and the Construction of Alternative Futures which all addressed in one way or the other the need to reflect upon other social arrangements to assist humankind overcome the grave issues we face now and to come. His article justifying academic tenure is prescient in these times of increasing gig work and deserves highlighting in this recitation of his profound academic record.
Sjoberg never stopped working although admittedly, much of his pleasure diminished when his life partner Andree died in the spring of 2018. While they had no children, they leave behind a host of former graduate students and colleagues who learned by his example the meaning of mentoring. He was generous with his time, spending hours, primarily on the phone, working out ideas, listening to ideas, and expanding upon ideas. The round-the-clock care that the Allejo family provided both Sjobergs in their twilight years must also be recognized. Without this care, Sjoberg would not have been able to devote his mental energies to the production of sociological knowledge that extended well into his 90s.
Boyd Littrell and Karen Manges Douglas
Posted: 04/24/19
---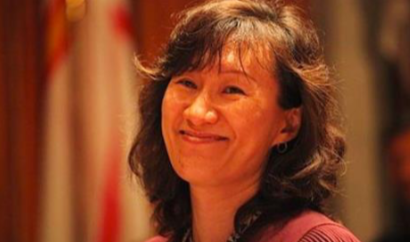 In Memoriam: Remembering Lai Han Lisa Watt
It is with great sadness that we share news of the death of one of our division members. Dr. Lai Han Lisa Watt was a well-liked and respected member of our IE network. Lisa was a passionate scholar and a dedicated mother to her daughter Lok- Yi who became the focus of Lisa's doctoral work: "Her Life Rests on Your Shoulders": Doing Worry as Emotion Work in the Care of Children With Diabetes.
A tribute to Lisa along with information about donating to a fund set up for Lok-Yi can be found here: https://socialwork.mcmaster.ca/news/remembering-lisa-watt
Posted: 12/18/18
---
The Passing of a Colleague and a Friend
Matthew Leclaire (right, next to his advisor, Andrew Spivak at his doctoral hooding), a rising star in the study of bullying and juvenile delinquency, passed away on September 21, 2018, of complications related to a persistent infection. He was elected to be the incoming chair of the Crime and Juvenile Delinquency Division and was well-known at SSSP for his infectious enthusiasm, sharp intellect, and an approach to sociology that was not afraid to stand out from the crowd. What he was less known for (but equally deserving of recognition) was his activism in his local community, his tremendously influential and award-winning work in the classroom, and his mentorship of fellow graduate students— of whom I was but one.
Matthew was a one-of-a-kind scholar, the likes of which we never knew we needed. Coming up from humble beginnings, a difficult childhood, and a rich, personal history of experience in sub-cultural groups, he brought a nuanced, critically-minded approach to the study of delinquency. His personal experience became a tool in the classroom, inspiring his students to look beyond the textbook. He encouraging students to get their hands dirty by exploring groups far removed from their personal experience and to take the lessons of sociology into the real world. In fact, the halls of his former graduate school department, University of Nevada, Las Vegas, are still lined with the poster presentations from his classes, where no other undergraduate class's work is featured. It is no wonder UNLV saw fit to award him with a University-wide teaching award.
Matthew had just completed his Ph.D. in sociology from the University of Nevada, Las Vegas and begun a tenure-track position this Fall teaching in both sociology and criminology at Coppin State University in Baltimore. It was his dream to move beyond his beginnings and excel in the every day acts of teaching, knowledge creation, and activism. Matthew lives on in the work of his peers, students, and faculty who he inspired to push the boundaries of teaching, research, and community involvement.
Chris Wakefield
University of Nevada, Las Vegas
Posted: 10/17/18
---