Agenda for Social Justice
President's Welcome
As an organization, the Society for the Study of Social Problems (SSSP) has a membership that is well-versed in a myriad of specific and broad problems facing the world. With the complexity and onslaught of crises worldwide, we can all be tempted to throw up our arms and get lost in a Netflix series, but as a social justice organization grounded in social science, we do not have that option. Instead, we engage in work that creates solutions toward a more just world. The SSSP was created and is sustained by individuals who have identified solutions to social problems. We are an organization of scholars who create dreams of transformation, guided and built upon our sociological imagination and research, sense of hope in humanity, and a belief in our ability to create change. We mobilize our sociological research and insight to inform policy and activism that will lead to the creation of more just worlds. Imagine for a moment, we could easily be the Society for the Study of Social Solutions! On behalf of the SSSP, I am honored to invite you to read the Agenda for Social Justice: Solutions for 2020 and to thank Glenn Muschert and his team for their work on this superb volume.
Heather M. Dalmage, Roosevelt University
SSSP President, 2019-2020
---
The Agenda for Social Justice: Solutions for 2020 provides accessible insights into some of the most pressing social problems in the United States and proposes public policy responses to those problems. It offers recommendations for action by elected officials, policymakers, and the public regarding key issues for social justice, including a discussion of social problems related to racism, health disparities, educational inequalities, criminal justice issues, and the environment.
---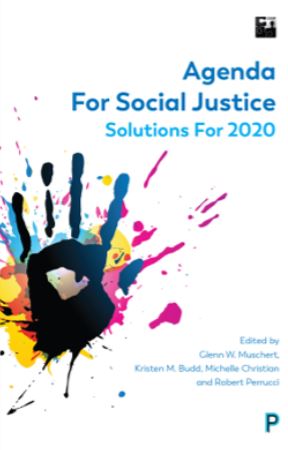 Access Options
Click here to access a pdf verison of the Agenda for Social Justice: Solutions for 2020 now.

Purchasing Options
The Agenda is available in hard copy and e-reader versions for a nominal fee. Please consider purchasing the Agenda to support the SSSP!

Click here for Policy Press purchasing information.
Table of Contents
Editors: Glenn W. Muschert, Kristen M. Budd, Michelle Christian, and Robert Perrucci
Front Matter
President's Welcome
Heather Dalmage

Editorial Introduction
Glenn W. Muschert and Kristen M. Budd
SECTION I Ethnicity, Race, and Gender

Chapter 1. Islamophobia
Aneesa A. Baboolal

Chapter 2. Latinos are Each of Us: Fair and Just Immigration Policies for All
Noreen M. Sugrue and Sylvia Puente
Chapter 3. The Intersection of Gender and Race in the U.S. Family Law: Persistent Social Inequities and Rollback Reforms
Bronwen Lichtenstein

SECTION II Health and Families
Chapter 4. Reproductive Rights
Sujatha A. Jesudason
Chapter 5. In Pursuit of Justice in the U.S. Health Care Policy: Pathways to Universal Coverage
Jennifer Roebuck Bulanda and Amelia Pittman

Chapter 6. The Problem of Unpaid Parental Leave
Ronald E. Bulanda and Jennifer Roebuck Bulanda

SECTION III Education

Chapter 7. Power, Privilege, and #MeToo in Academia: Problems, Policies, and Prevention around Sexual Misconduct
Sarah Jane Brubaker and Brittany Keegan

Chapter 8. "They Tested with Stress": Solving Racial Injustice in Assessment by Acknowledging Adverse Childhood Experiences
Mawule A. Sevon and La Trice L. Dowtin

Chapter 9. Black Girls and School Suspension
Cherrell Green
SECTION IV Crime and (In)Justice
Chapter 10. Police Homicides: The Terror of "American Exceptionalism"
Robert Aponte and Hannah Hurrle

Chapter 11. Crimmigration: The Presumption of Illegality and Criminalization of Immigrants
Kristen M. Budd and Bianca E. Bersani
Chapter 12. Alleviating the Mark of a Criminal Record: Prison Programming and Post-Incarceration Employment
Sadé L. Lindsay
SECTION V Enduring Challenges
Chapter 13. Ending the Persistence of Homelessness
R. Neil Greene and Wayne Centrone
Chapter 14. Risks to Journalists' Safety and the Vulnerability of 135 Media Freedom in the U.S.
Sadia Jamil and Glenn W. Muschert
Chapter 15. Environmental Justice
David N. Pellow
Chapter 16. Protecting and Rewarding Workers in the 21st Century
Arne L. Kalleberg
SECTION VI Looking Forward
Chapter 17. The Contested Construction of Social Problems
Stephen Pfohl
Afterword: America on the Edge: Fighting for a Socially Just World
Michelle Christian
Endorsements
"Agenda for Social Justice continues to demonstrate that scholar activism is vital in producing knowledge that can champion change for a better world."
Mary Romero, Former President of the American Sociological Association
"This useful volume proposes solutions to the most important social problems of our time."
Luis A. Fernandez, Northern Arizona University, and SSSP President 2017-2018
"This book offers an accessible, engaging, and critical tool, drawing on cutting-edge social justice research to create positive social change."
Nancy J. Mezey, Monmouth University, and SSSP President 2018-2019