2021 Virtual Annual Meeting
2021 Preliminary Program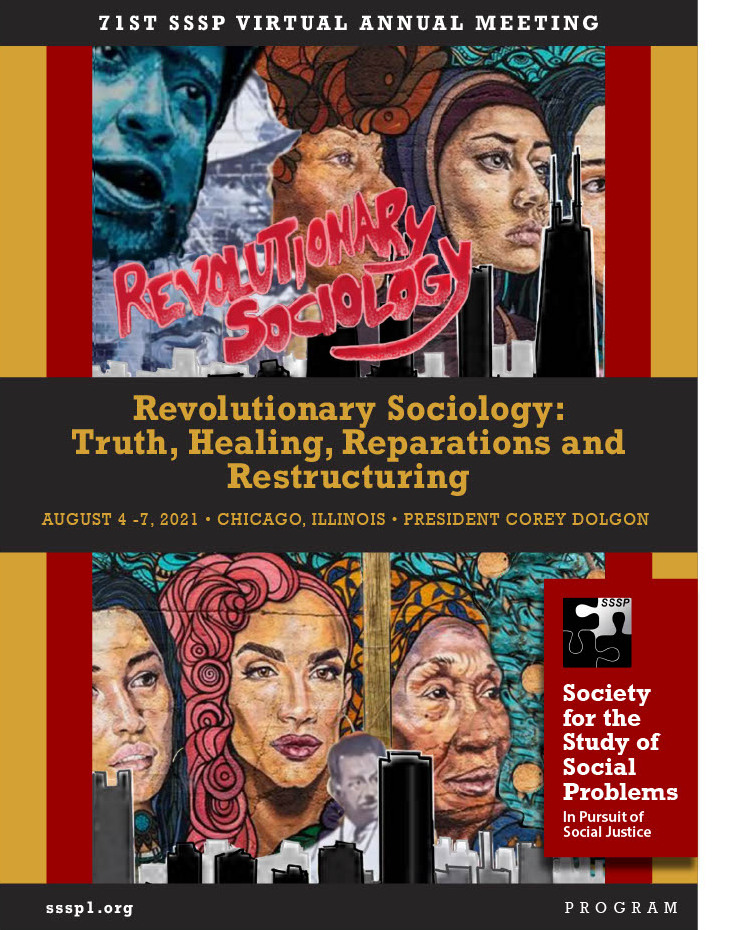 Revolutionary Sociology: Truth, Healing, Reparations and
Restructuring
The Society for the Study of Social Problems
71st Virtual Annual Meeting
August 4-7, 2021


View the program schedule for detailed information including a rich assortment of sessions and evening social activities. All conference programming will take place in Eastern Time. Check back often for updates.
Click here to download the PDF version of the program schedule.
Need to register, click here.

The SSSP 2021 Virtual Annual Meeting platform will be released in late July. At that time, all registrants will receive an e-mail with instructions on how to access the platform and can begin building a personal agenda of sessions and events to attend. There will be plenty of networking and social opportunities as well. Registrants will be able to invite other registrants and schedule live video meetings throughout the conference. These meetings can be one on one or with up to 30 meeting participants. The program also includes several free unprogrammed timeslots with live video meetings (Zoom links) for those who want to use them.
Searchable Features
Program Schedule

Index of Participants

Index of Sessions

Plenary, Thematic, and Special Sessions
Virtual Annual Meeting Information
Annual Meeting Program Theme

Annual Meeting Schedule
Turnover Schedule • Acknowledgement

Annual Meeting Sponsors

Accessibility Guidelines and Services

Anti-Harassment Policy

Book Exhibit Information
The Scholar's Choice • Bristol University Press/Policy Press
Listing of Officers and Committee Members
Officers • Board of Directors • Elected Committees • Appointed Committees • Appointed Positions • Ad Hoc Committees • Administrative Office
Listing of Sustaining Members

Mentoring Program

In Recognition of Past, Present, and Future Service
Presidents of SSSP, 1952-2023 • Editors of Social Problems, 1953-2024
Virtual Annual Meeting Events
2020 C. Wright Mills Award Finalists

2021 Student Paper Competition Winners and Outstanding Scholarship Award Winners

Free Film Screenings
A Reckoning in Boston • Conscience Point • Rebel Bells

Special Events and Evening Social Activities Schedule
Opening Plenary • Free Film Screenings • SSSP Business Meeting • Awards Ceremony, including Awards to be Presented • An Evening of Book Panels • Happy Half Hour • Presidential Address • After Talk Social Gathering • Poetic Justice: Poetry Slam & Open Mic Night

Optional One-Day Virtual Workshops
Community-Based Participatory Action Research • Advancing Activist Scholarship and Engaged Pedagogy in Promotion and Tenure • Institutional Ethnography • Social Impact Social Change: Storytelling
2022 Annual Meeting Program Theme
Coming Soon