2023 Annual Meeting Information
August 18-20, 2023
Sheraton Philadelphia Downtown Hotel
Philadelphia, PA
Travel to the United States
Please review USA.gov for information about travel documentation required to the United States for non-US citizens. Please review CDC recommendations and guidance on domestic travel and international travel. Both pages include information for before, during, and after travel.
Registration Fees by Membership Type
Registration for the 2023 Annual Meeting is forthcoming.
To participate in the annual meeting, all attendees must pay the appropriate registration fee.
Registration Type

Member

Student/Underemployed/ Emeritus Member

Non-Member

Non-Member, Student/ Underemployed/ Emeritus Member

Early Bird Registration

(valid thru June 1, 2023)

$165

$50

$265

$150

Pre-Registration

(valid June 2 – July 26, 2023)

$175

$60

$275

$160

On-Site Registration

(valid August 17 – August 20, 2023)

$200

$70

$300

$170
All program participants (except individuals from community, labor, and comparable organizations working on social problems or social justice issues who have been invited to serve on a panel or to make a presentation) must be current members of the Society (you may join upon acceptance of your presentation) and must register (paying the guest registration fee is not acceptable for program participants) for the annual meeting by June 1, 2023. Persons failing to register by June 1 will have their presentations deleted from the final program.
All exemption requests must be submitted by May 15. Exemptions from paying registration fees will be considered for:
Non-students who are unemployed and/or receiving monthly financial assistance to meet living expenses;
Individuals from community, labor, and comparable organizations working on social problems or social justice issues who have been invited to serve on a panel or to make a presentation;
Non-U.S. and non-Canadian scholars residing in economically disadvantaged countries who without these funds would be unable to attend the meeting;
Co-authors of papers who will not be attending the meeting. One of the co-authors must be a paid registrant. Both co-authors must pay if both expect to attend the meeting; or
Persons excused by direct request of the Program Chair.
Anti-Harassment Policy
As a social justice organization, the SSSP is committed to creating a safe and welcoming space at the annual meeting for the free exchange of ideas and professional development; an environment free from harassment based on, but not limited to, race, ethnicity, gender identity or gender expression, national origin, age, disability, health conditions, sexual orientation, religion, language, socioeconomic status, marital status, domestic status, or parental status. This includes the harassment of colleagues, students, guests, SSSP and hotel staff, vendors, exhibitors, and others present at the annual meeting. To that end, we ask you to help us to make it very clear that anyone engaging in this kind of behavior is not welcomed at the annual meeting.
The Society for the Study of Social Problems is committed to the eradication of discrimination (both intentional and unintentional), harassment, intimidation, and violence directed at individuals and groups based on, but not limited to, race and ethnicity, sex, gender, gender identity and expression, sexual orientation, age, class, nationality and immigrant status, ability, and religion. Offensive and prohibited conduct may include, but is not limited to, offensive jokes, slurs, epithets, name calling, physical assaults and threats, unwanted touching and persistent unwanted attention and invasion of personal space, intimidation, ridicule or mockery, and insults and put-downs. Whenever and wherever possible, the Society will affirm this commitment to anti-racist, anti-sexist, anti-homophobic, anti-xenophobic, and anti-Islamophobic agenda, publicly and explicitly. As an organization dedicated to social justice, the Society will take very seriously, reports, formal or informal, of harassment or discrimination in the organization and at annual and other Society meetings. To the greatest degree possible, the Society will do what it can to respond appropriately to those who violate our policies and to protect victims and potential victims, from being subjected to this type of unwanted and offensive behavior. We will make every effort to ensure that this commitment is manifest in the policies, programs, and practices of the organization, including in the public positions the SSSP takes on issues, both national and international. SSSP expressly prohibits retaliation against individuals who report harassment and will take action against those who retaliate.
By joining SSSP and registering for meetings, members of SSSP agree to comply with this policy.
View the SSSP's Anti-Harassment Policy in its entirety here.
Click here if you would like to make an ANONYMOUS report regarding behavior that violates the anti-harassment policy. See the policy to make a formal report and additional reporting options.
Refund Policy
Registration fees will be refunded to persons who notify the Administrative Office that they will not attend the annual meeting prior to July 15. Once the final program is posted and participant packets have been prepared, processing costs have already occurred. Unfortunately, under no circumstances will SSSP issue refunds for no-shows.
Airfare
For an airfare estimate, browse the internet or call your local travel agent or preferred airline for current fare quotes.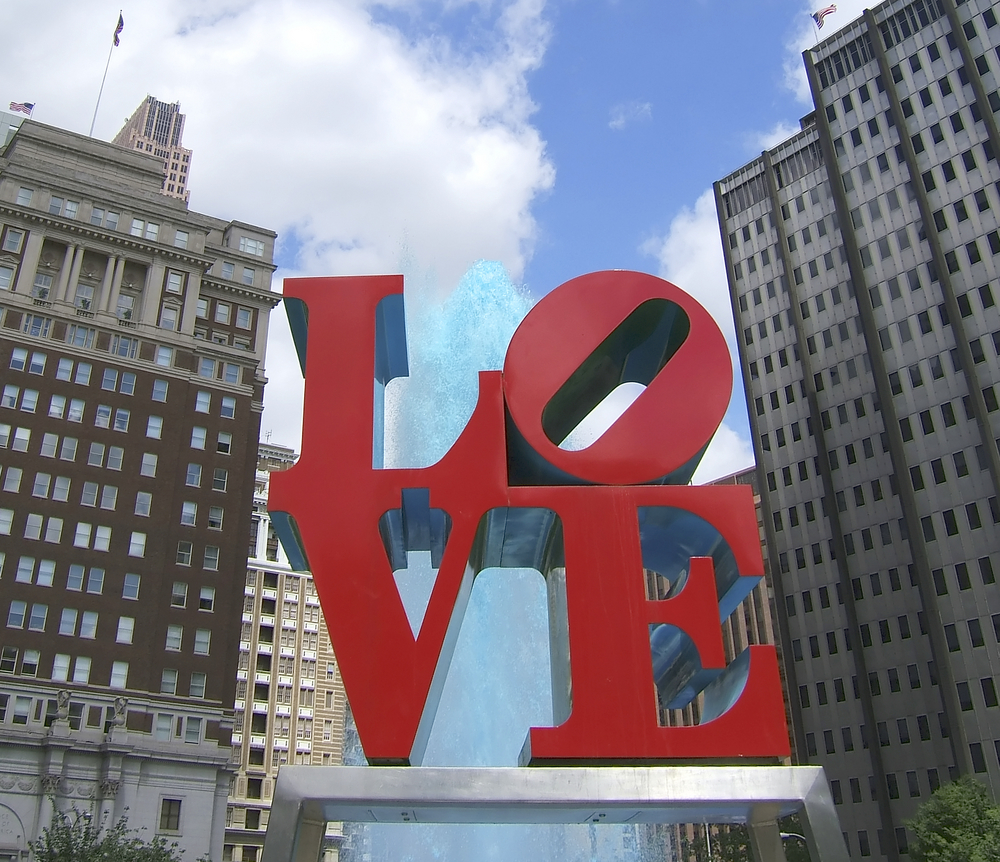 Housing
The annual meeting will be held at the Sheraton Philadelphia Downtown Hotel. The SSSP has secured a group rate for our annual meeting registrants. Reservations can be made by phone at Reservations #1-866-716-8134. Request the SSSP-2023 Philadelphia room rate. Reservations must be confirmed by Tuesday, July 25, 2023 to guarantee our negotiated group rate. Reservations received after or if the room block is filled prior to that date, are subject to availability. Room rates include complimentary wireless internet access in guest rooms.
Single/Double: $191; Triple/Quad: $211
(all rates subject to 16.37% applicable and local taxes (subject to change)
Meals Overview provided by Dr. Adriana Leela Bohm
Philadelphia is known for its restaurants and here are some of the newest. We are also known for our diversity of restaurants, and were recently ranked the 19th best foodie city in the US. Philly also has a wide assortment of food trucks along with some of the country's finest dining and most delicious ice-cream.
The Redding Terminal was recently named the best public market in the entire USA and there you can truly find anything you want to eat.
South Philly's Italian Market is approximately ten city blocks and is one of the oldest and largest open-air markets in the country. You will find street vendors, stores, and restaurants, selling everything from cheesesteaks, fresh fruits, and butchered meat to the most delicious pastries imaginable. For instance, check out Isgros for their cannoli and ricotta cheesecake.
Philadelphia also has many other neighborhoods which offer great restaurants, shopping, and the opportunity to people watch. For instance, Chinatown is just a few feet away from the Pennsylvania Convention Center and is the second largest Chinatown on the East Coast. About 3,000 people - the majority with ancestors from countries such as China, Taiwan, Vietnam, Korea, Myanmar, Japan and Malaysia - live in this vibrant community. Here you will find plenty of restaurants, coffeeshops, and bubble tea spots.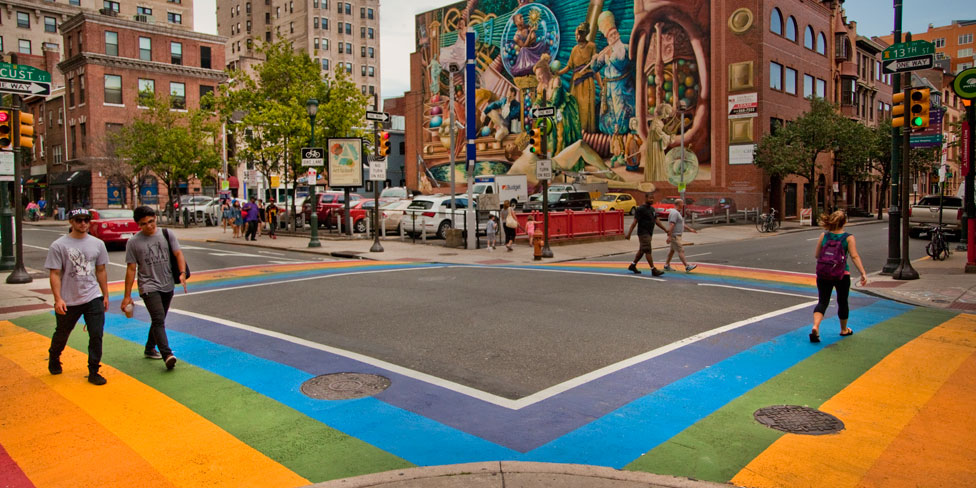 Dilworth Park offers many dining options as well as activities such as fitness classes, roller skating specials and performances from Philadelphia's many arts and cultural organizations. The Convention Center District and Market East house a plethora of restaurants as well as murals, sculptures, and other outdoor art. This is also where the Redding Terminal is located.
The Fairmount area includes Fairmount Park, which offers trails for cycling, horseback riding and forest-like hiking; tours of historic mansions; outdoor concerts; and places to barbeque. The Fairmount area and its surrounding neighborhood - close to the Philadelphia Art Museum - also offer many delicious restaurants.
Fishtown - a North Philadelphia neighborhood - was historically the home of many working-class Philadelphians. Recently, young artists and musicians moved into the area, and as they did, Fishtown popped up with new bars, restaurants, galleries, studios, and music venues. Fishtown extends from North of Girard Avenue and South of Lehigh Avenue and is bordered by Front Street to the East and the Delaware River to the West. There are numerous public transit options to get to Fishtown. For example, the SEPTA Market-Frankford Line stops on Girard Avenue in Philadelphia's Fishtown. You can also get to the area by bus, by car, and by using the Route 15 trolley.
Franklin Square is a family friendly venue which offers outside activities such as Philly Mini Golf; Philadelphia Parx Liberty Carousel, a classic tribute to Philadelphia's great heritage of carousel-making; the Once Upon a Nation storytelling bench, where costumed performers tell tales of Franklin Square's past; and the Franklin Square Fountain, which features water shows in sync with music and colorful lights in the evening. Fountain shows run daily in the summer every 30 minutes from noon to 2 p.m. and 6 p.m. until closing. One can also grab a bite to eat as you watch the light show or relax on the grass.
Northern Liberties is a former industrial area, which is now considered a "hipster hot spot" and is full of art galleries, boutiques, spas, and restaurants.
Visit North 2nd Street for global restaurants, craft beer halls and dance clubs, or the Liberties Walk pedestrian mall for bike paths and unique shops.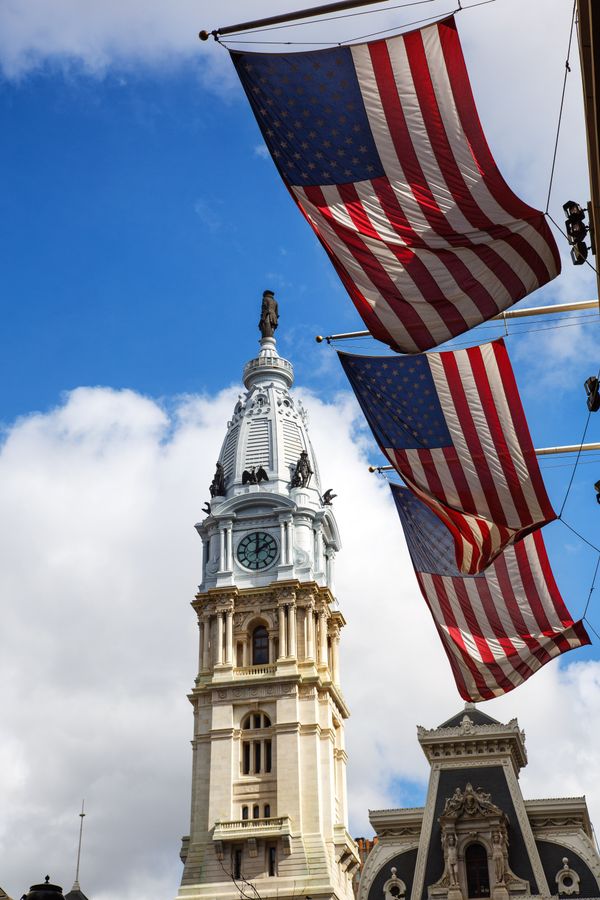 You can also check out Old City and the Parkway Museum District for sights and food.
Rittenhouse Square is known as the restaurant neighborhood for lunch, brunch, and late nights out on the town. Here you will find burgers, vegan specialties, and James Beard winners. In the heart of Rittenhouse Square is Rittenhouse Park, and there you will find artists, poets, skateboarders, etc. Rittenhouse also offers an open-air farmers market and many shops, stores, and coffeeshops.
Head down to South Street for a 2-mile walk filled with cafes, restaurants, local shops, boutiques, and art. South Street goes from West to East, and is split in half by Broad Street. Here are some great restaurants to consider and while you're on South Street don't forget to get a cheesesteak from Ishkabibbles!
Spruce Street Harbor Park is an outside venue filled with colorful hammocks, floating gardens, trees with fairy lights, and yummy food from some of our best restaurants.
13th Street Midtown Village & the Gayborhood is in the rectangular section of Center City between 11th and Broad Streets, and Market and Spruce Streets. This neighborhood is in the center of Center City, and contains the Gayborhood, with lots of restaurants from which to choose. It is also the hub of LGBTQ+ nightlife, and there are many clubs and cafes.
While you are out and about, do not forget to check out Washington Square and University City.
We promise you will not go hungry in the 6th largest city in the US, so please, come eat with us!
Yours in solidarity,
Adriana Leela Bohm, PhD
Local Arrangements Chair