Welcome to Philadelphia, the City of Brotherly Love!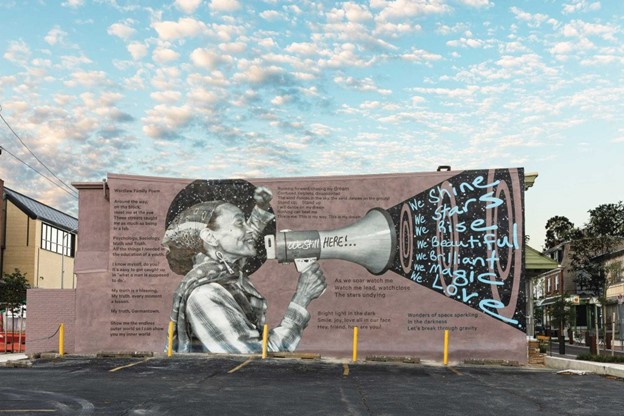 Photo Credit: Mural of Ursula Ruckers Photo Credit Google Images
Welcome to Philly!
Philadelphia is known as the Cradle of Liberty. It is where the Declaration of Independence and the Constitution were signed and is a critical part of the resistance movement in the US, as exemplified by the Lenni-Lenape, the Abolitionists, and the Temple Union Graduate Student Association (TUGSA), which waged an indefinite strike against Temple University starting in February, 2023, for better working conditions, living wages, health care coverage for dependents, and paid parental leave.
Recognition of Ancestral Tribal Lands
Philadelphia is situated on land that was originally settled by the Lenape almost 10,000 years ago. We want to recognize Philadelphia as part of Lënapehòkink, the ancestral homelands of the Lenape Nation, whose presence and resilience in Pennsylvania continues to this day.
In Pennsylvania, we have a long record of breaking treaties, forcing tribes off of their lands, and engaging in fraudulent agreements such as the Walking Purchase of 1737. The Lenape were displaced by these processes as well as by Quakers and other religious minorities that settled the Commonwealth of Pennsylvania in the late 17th and 18th centuries. Lenape descendants today include the Delaware Tribe and Delaware Nation of Oklahoma; the Nanticoke Lenni-Lenape, Ramapough Lenape, and Powhatan Renape of New Jersey; and the Munsee Delaware of Ontario. As we work towards freedom and equity, we would like to acknowledge these important facts, express our sincere appreciation and respect for Lenape history and culture, and commit our bodies to action as we work with them for Freedom & Sovereignty.
We also want to share the Nanticoke Lenni-Lenape Tribal Nation Land Acknowledgement Statement, which reads "The land upon which we gather is part of the traditional territory of the Lenni-Lenape, called 'Lenapehoking.' The Lenape People lived in harmony with one another upon this territory for thousands of years. During the colonial era and early federal period, many were removed west and north, but some also remain among the continuing historical tribal communities of the region: The Nanticoke Lenni-Lenape Tribal Nation; the Ramapough Lenape Nation; and the Powhatan Renape Nation, The Nanticoke of Millsboro Delaware, and the Lenape of Cheswold Delaware. We acknowledge the Lenni-Lenape as the original people of this land and their continuing relationship with their territory. In our acknowledgment of the continued presence of Lenape people in their homeland, we affirm the aspiration of the great Lenape Chief Tamanend, that there be harmony between the indigenous people of this land and the descendants of the immigrants to this land, 'as long as the rivers and creeks flow, and the sun, moon, and stars shine.'"
Land Acknowledge statements require us to acknowledge the discussion around them as Performative Acts. Without engaging in the real, everyday resistance work of fighting to rectify the genocide against indigenous people in this country, such statements may ring hollow. We hope that as a community and organization we think of land acknowledgements as a starting point for deep reflection on what we have systematically done to Indigenous people and also as a point of departure for disrupting oppression.
Culture
There are many inspirational people from Philadelphia, including Lenape Chief Tamanend, cultural anthropologist Margaret Mead, civil rights icon Gloria Casarez, political activist and journalist Mumia Abu Jamal, community organizer Taryn Flaherty, poet Ursula Rucker, and Billie Holiday, one of the most celebrated singers of the 20th Century. Philly was also home to Betsy Ross, and her house has been turned into a local museum you may visit. Carolyn Davenport Moore, a local civil rights leader from the 1940s through the 1960s, was also from Philadelphia, as are Patti Labelle, Pink, and Santigold.
As the nation's birthplace, Philadelphia is rich in history – both historically and contemporarily – and has been called home by many resistance fighters demanding freedom. For instance, Richard Allen, Absalom Jones, William Still and Robert Purvis set deep Free Roots in the city and helped countless people escape bondage. Radical Abolitionist Benjamin Lay may have been born in England, but he lived in Philadelphia and while he was here, he wrote one of the earliest anti-slavery tracts published in North America as he engaged in provocative, resistance-based theatrical performances demanding that his fellow Quakers stop enslaving Africans. In PA, but outside of Philly, we had the Christiana Resistance, where William and Eliza Parker, along with 80 armed Black men and women and 2 Quakers, engaged in one of the most significant violent altercations before the Civil War, challenging both slavery and the idea of non-violent resistance. Many historians actually argue the Christiana Resistance was the first battle of the Civil War. Philly is also home to Caroline LeCount, an early activist who made efforts to desegregate public transportation well before Rosa Parks. Charlene Arcila came out as transgender when she moved to Philadelphia from Mississippi, and it was here she founded the Philadelphia Trans Health Conference and led the grassroots movement to ban gender markers from SEPTA passes. Finally, we could never talk about the arts, education, and the fight against racism without joyfully shouting out Sonia Sanchez. Although she was born in Alabama, Philadelphia is where she lives and Professor Sanchez is a jubilant & essential part of our education and arts scene, constantly challenging us to fight injustice and simultaneously celebrate the beauty of humanity
Philadelphia is the birthplace of numerous contemporary social movements. Graduate student employees organized to form TUGSA (Temple University Graduate Student Union), which was the first graduate employee union in the state; students engaged in social resistance as they fought the defunding of public education; our community battled gentrification and the building of the Temple Stadium in North Philadelphia through Stadium Stompers; and the Black Lives Matter Movement continues to protest continued police brutality and violence.
Protest & Celebratory Art
Protest sparks energy and ideas, including music and art, so check out our vibrant arts scene including our magnificent Mural Arts, the Asian Arts Initiative, The Painted Bride, LGBTQ+ art in community centers such as William Way, the work of Black Artists, Philly's unique The Colored Girls Museum, and the beautiful Lenape Nation exhibition "Fulfilling a Prophecy: The Past and Present of the Lenape in Pennsylvania," which draws from oral histories, artifacts, photographs, and research.
Museums
Public Art
All of the following attractions are public art works in local parks. I encourage taking a walk to view these famous and beautiful spaces in Philadelphia.
Theatres
If you would like to go see a show, there are many theatres from which to choose.
Gayborhood
Philadelphia has a thriving gay community with a long history. In 1965, four years before the Stonewall Riots in New York ignited the worldwide LGBTQ+ rights movement, a group of protesters began an annual July 4th pride march in front of Independence Hall in Philadelphia. Since then, the LGBTQ community has come out in increasing numbers to claim their rightful place in Philadelphia. One can walk through the Gayborhood, a section of Center City's Washington Square District, and see rainbow flags adorning the street signs, murals celebrating love and marriage equality, and signs encouraging resistance and inclusiveness. Philadelphia hosts many highly visible and important LGBTQ+ events, such as Equality Forum, Blue Ball, Black Pride, Pride Parade, and OutFest - the largest National Coming Out Day festival in the world. Please check out Philly Gay Calendar for events during your stay in Philadelphia.
Neighborhoods
Philadelphia is known for its many neighborhoods, which offer great restaurants and shopping.
Historical Sites (within one square mile of each other)
Food
Philadelphia is known for its restaurants, and we were recently ranked the 19th best Foodie City in the US. We have many Great Restaurants and here are some of our Hot New Restaurants. Philly also has a wide assortment of Food Trucks and some of the country's best Fine Dining. We also have a plethora of Black Owned Restaurants and one of my personal favorites is Amina. We promise you will not go hungry in the 6th largest city in the US!
Eat, Hang Out, Shop
The following include outside spaces - except for the Redding Terminal - where you can eat, hang out, people watch, and even do a bit of shopping.
Free Things to Do in Philly
There are a lot of fun, free things to do in Philly all year.
August 2023 Special Events
We are excited that you are coming to Philadelphia! We are bursting with love, activism, resistance, poetry, people, energy, and our centuries old belief that we can - and will - create a more just and humanitarian society. Equity is not only imaginable, it is possible. I hope you enjoy your stay with us!
Best,
Adriana Leela Bohm, PhD
Delaware County Community College
Chair, Local Arrangements Committee, 2022-2023