2024 Annual Meeting Information
August 9-11, 2024
Le Centre Sheraton Montréal Hotel
Montréal, Canada
Travel to Canada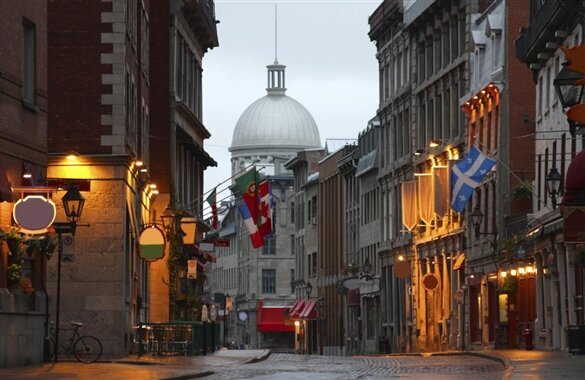 Due to significant delays in processing, be sure to get started on obtaining/renewing your passport and other travel documents now. Review the Canada Border Services Agency web page for information about required travel documentation.
Passport processing can take as long as 11 weeks for routine requests and 7 weeks for expedited service. Be sure to give yourself plenty of time to get a valid passport before you travel internationally.
Registration Fees by Membership Type
Registration will open in early 2024.
All program participants (except individuals from community, labor, and comparable organizations working on social problems or social justice issues who have been invited to serve on a panel or to make a presentation) must be current members of the Society (you may join upon acceptance of your presentation) and must register (paying the guest registration fee is not acceptable for program participants) for the annual meeting by June 1, 2024. Persons failing to register by June 1 will have their presentations deleted from the final program.
All exemption requests must be submitted by May 15. Exemptions from paying registration fees will be considered for:
Non-students who are unemployed and/or receiving monthly financial assistance to meet living expenses;
Individuals from community, labor, and comparable organizations working on social problems or social justice issues who have been invited to serve on a panel or to make a presentation;
Non-U.S. and non-Canadian scholars residing in economically disadvantaged countries who without these funds would be unable to attend the meeting;
Co-authors of papers who will not be attending the meeting. One of the co-authors must be a paid registrant. Both co-authors must pay if both expect to attend the meeting; or
Persons excused by direct request of the Program Chair.
Annual Meeting Accessibility Statement
SSSP aims to make the annual meeting an accessible and inclusive space. Our Accessibility Committee strives to ensure that all facilities at the annual meeting are accessible to disabled participants to encourage and assure their full participation. In addition, SSSP upholds an Anti-Harassment Policy to create a safe and welcoming space. We offer a number of travel awards to support attendance by students, lower-income members, and international scholars from the Global South and other oppressed areas outside the U.S.
All SSSP Annual Meeting attendees will be required to follow any COVID 19-related protocols mandated by local authorities at the time of the meeting. SSSP strongly recommends that attendees receive COVID19 vaccination in advance of participation and use masks while we are together in Montréal. As you navigate the meeting space, please do your best to help protect all of our colleagues. SSSP may choose to enact stricter protocols should they be warranted by public health circumstances closer to the meeting time.
Remote presentation options will be made available for paid meeting registrants who have a disability and people who have a medical condition for which a medical professional would advise against in-person attendance. SSSP is optimistic that all remote presentation requests can be accommodated, but depending on demand and available Wi-Fi bandwidth, remote presenters should be aware that the Wi-Fi could potentially fail to support the presentation. Therefore, registrants are asked to only request remote presentation if truly necessary to increase the chances that sufficient bandwidth will be available to those who need it. A request for remote presentation must be made by July 21, 2024. To request remote presentation, contact Michele Koontz, Administrative Officer & Meeting Manager, mkoontz3@utk.edu.
| | |
| --- | --- |
| | |
Anti-Harassment Policy
As a social justice organization, the SSSP is committed to creating a safe and welcoming space at the annual meeting for the free exchange of ideas and professional development; an environment free from harassment based on, but not limited to, race, ethnicity, gender identity or gender expression, national origin, age, disability, health conditions, sexual orientation, religion, language, socioeconomic status, marital status, domestic status, or parental status. This includes the harassment of colleagues, students, guests, SSSP and hotel staff, vendors, exhibitors, and others present at the annual meeting. To that end, we ask you to help us to make it very clear that anyone engaging in this kind of behavior is not welcomed at the annual meeting.
The Society for the Study of Social Problems is committed to the eradication of discrimination (both intentional and unintentional), harassment, intimidation, and violence directed at individuals and groups based on, but not limited to, race and ethnicity, sex, gender, gender identity and expression, sexual orientation, age, class, nationality and immigrant status, ability, and religion. Offensive and prohibited conduct may include, but is not limited to, offensive jokes, slurs, epithets, name calling, physical assaults and threats, unwanted touching and persistent unwanted attention and invasion of personal space, intimidation, ridicule or mockery, and insults and put-downs. Whenever and wherever possible, the Society will affirm this commitment to anti-racist, anti-sexist, anti-homophobic, anti-xenophobic, and anti-Islamophobic agenda, publicly and explicitly. As an organization dedicated to social justice, the Society will take very seriously, reports, formal or informal, of harassment or discrimination in the organization and at annual and other Society meetings. To the greatest degree possible, the Society will do what it can to respond appropriately to those who violate our policies and to protect victims and potential victims, from being subjected to this type of unwanted and offensive behavior. We will make every effort to ensure that this commitment is manifest in the policies, programs, and practices of the organization, including in the public positions the SSSP takes on issues, both national and international. SSSP expressly prohibits retaliation against individuals who report harassment and will take action against those who retaliate.
By joining SSSP and registering for meetings, members of SSSP agree to comply with this policy.
View the SSSP's Anti-Harassment Policy in its entirety here.
Click here if you would like to make an ANONYMOUS report regarding behavior that violates the anti-harassment policy. See the policy to make a formal report and additional reporting options.
Refund Policy
Registration fees will be refunded to persons who notify the Administrative Office that they will not attend the annual meeting prior to July 15. Once participant packets have been prepared, processing costs have occurred. Unfortunately, under no circumstances will SSSP issue refunds for no-shows.
Airfare
For an airfare estimate, browse the internet or call your local travel agent or preferred airline for current fare quotes.