Agenda for Social Justice
President's Welcome
The difference between the Society for the Study of Social Problems and most other academic professional organizations is that for over fifty years, the SSSP has worked to bring excellent scholarship on the pressing issues of the day to agents of change and to apply that knowledge to solutions for those social problems. Our Society's founders really did believe the point was not to simply understand society, but to change it! Today our society is dedicated to nourishing a form of "public sociology" that is designed to be useful to policy makers and activists. It is our way of giving something back to people and institutions that participate in the difficult but essential work of crafting progressive solutions to contemporary social problems. It is in that spirit that we offer the Agenda for Social Justice: Solutions 2016. I am very proud to be part of an organization that produces this sort of fine publication and I do believe that it will, indeed, help set the agenda for social justice in the coming years. Thanks to all the authors and particularly the tireless work of Glenn W. Muschert and the SSSP Justice 21 Committee!
Sincerely,
David A. Smith, University of California, Irvine
SSSP President, 2015-2016
---
The Agenda for Social Justice: Solutions 2016 provides accessible insights into some of the most pressing social problems in the United States and proposes public policy responses to those problems. It offers recommendations for action by elected officials, policy makers, and the public around key issues for social justice, including a discussion of the role of key issues of sustainability and technology in the development and timbre of future social problems.
---
"Accessible summaries of social science research on some of the most critical social problems we face....an invaluable guide to developing awareness, understanding and movement toward a more just and sustainable world." Kathleen Ferraro, Northern Arizona University, and SSSP President 2003-2004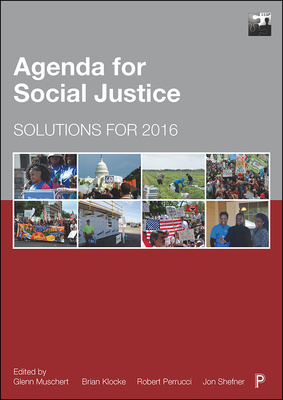 Access Options
The Agenda for Social Justice: Solutions for 2016 is now available for wide public distribution.
Please click here for a PDF of the
Agenda for Social Justice: Solutions 2016.

Purchasing Options:
The Agenda is available in hard copy and e-reader versions for a nominal fee. Please consider purchasing the Agenda to support the SSSP!

Click here for Policy Press purchasing information.
Click here for North and South American purchasing information.
Agenda for Social Justice: Solutions 2016 is the first issue published by Policy Press.
Table of Contents
Editors: Glenn W. Muschert; Brian V. Klocke; Robert Perrucci; Jon Shefner
Front Matter
President's Welcome
by David A. Smith, Ph.D.
Editorial Introduction
by Glenn W. Muschert, Ph.D. and Brian V. Klocke, Ph.D.
SECTION I Gender, Sexuality, and Injustice

Chapter 1. Campus Sexual Assault: Addressing a Systemic Social Problem in the United States
by Kristen M. Budd, Ph.D.; Alana Van Gundy, Ph.D.; Glenn W. Muschert, Ph.D.; and Rose Marie Ward, Ph.D.
Chapter 2. Missing Rights and Misplaced Justice for Sex Workers in the United States
by Crystal A. Jackson, Ph.D. and Jennifer J. Reed

SECTION II Public and Environmental Health
Chapter 3. Factory Farming: Impacts and Potential Solutions
by Ryan Gunderson, Ph.D.; Diana Stuart, Ph.D.; and Brian Petersen, Ph.D.

Chapter 4. Solutions to the Social Problem of Food Insecurity in the United States
by Leslie Hossfeld, Ph.D.; Brooke Kelly, Ph.D.; and Julia Waity, Ph.D.
Chapter 5. After Health Care Reform: Enduring Challenges for Justice in the American Health Care System
by Jennifer Roebuck Bulanda, Ph.D.

SECTION III Race, Labor, and Poverty

Chapter 6. Global Labor Social Justice on University Campuses
by Michelle Christian, Ph.D.

Chapter 7. When Home Disappears: How the Rise in Urban Foreclosures and Evictions Threatens Families
by Obie Clayton, Ph.D. and Barbara Harris Combs, J.D.

Chapter 8. The Racial Implications of Immigration Policy
by Trenita B. Childers and San Juanita García, Ph.D.

SECTION IV Criminal (In)Justice
Chapter 9. Gun Violence in the U.S.: Prevalence, Consequences, and Policy Implications
by Kellie R. Lynch, Ph.D.; Tony P. Love, Ph.D.; and Claire M. Renzetti, Ph.D.
Chapter 10. American Prisons: Consequences of Mass Incarceration
by Alana Van Gundy, Ph.D.

SECTION V Looking Forward
Chapter 11. The Surprising Link between Sustainability and Social Justice
by Amitai Etzioni, Ph.D.
Chapter 12. Techno-fallacies in the Search for Solutions to Social Problems
by Gary T. Marx, Ph.D.
End Matter
Afterword: The importance of Social Movements for Transformative Policy Solutions Towards Inclusive Social Justice and
by Brian V. Klocke, Ph.D.