Global Agenda for Social Justice
President's Welcome
The members of the Society for the Study of Social Problems (SSSP) are scholars who conduct cutting-edge research and, as activists and advocates, use that research to fight for a better, fairer world for all. The work done by members of the SSSP is needed now more than ever.
SSSP members are needed to identify and analyze, as well as offer solutions to, problems that are endemic across the globe. These problems include such as racism, sexism, criminal justice reform, immigration, refugee resettlement, and Lesbian, Gay, Bisexual, Trans, Queer/Questioning, Asexual, and Intersex (LGBTQAI) equity, to name but a few. In addition, SSSP members also prioritize working on wealth inequality, as well as the looming existential crisis of climate change.
Each member of the SSSP is called upon, required really, to assist in creating and sustaining more equitable and just social orders. In Global Agenda for Social Justice 2, an impressive array of SSSP scholars do exactly that. They are the embodiment of what all SSSP members do each day in their lives-they offer identification and analysis of an array of problems but then take their responsibility and work a step further by offering a guide for how to actually solve these problems. Embedded in those solutions are the ingredients that, when taken together, will forge the fundamental and systemic change required to have a fairer, as well as a more just and equitable, world order.
It is those actions of incubating social change through data-driven research and advocacy that set the SSSP apart from other organizations. It is the foundation on which the organization is built, and it is that foundation on which Global Agenda on Social Justice 2 sits. I encourage each of you to follow the lead of the volume's authors and begin building a pathway to constructing and implementing workable solutions to our most pressing social problems.
It is with a debt of gratitude for pushing each of us to continue in the storied tradition of scholar advocates and activists that I thank Glenn W. Muschert, as well as the other editors and all of the authors of Global Agenda for Social Justice 2. I thank them for continuing to push each of us to conduct quality research and advocate for changes that will lead to a more just and moral world.
Through the writings in Global Agenda for Social Justice 2, each of us is challenged to elevate the communication and ideals on which the SSSP was founded and continues to thrive. All involved in Global Agenda for Social Justice 2 are helping to redefine and shape both the narrative around and solutions to social problems; they do this by infusing their findings, ideas, and solutions into the policy press.
Noreen M. Sugrue, The Latino Policy Forum and The Council of International Neonatal Nurses
SSSP President, 2021-2022
---
The Global Agenda for Social Justice 2 provides accessible insights into some of the world's most pressing social problems and proposes practicable international public policy responses to those problems.
Written by a highly respected team of authors brought together by the Society for the Study of Social Problems (SSSP), chapters examine topics such as education, violence, discrimination, substance abuse, public health, and environment. The volume provides recommendations for action by governing officials, policy makers, and the public around key issues of social justice.
The book will be of interest to scholars, practitioners, advocates, journalists, and students interested in public sociology, the study of social problems, and the pursuit of social justice
---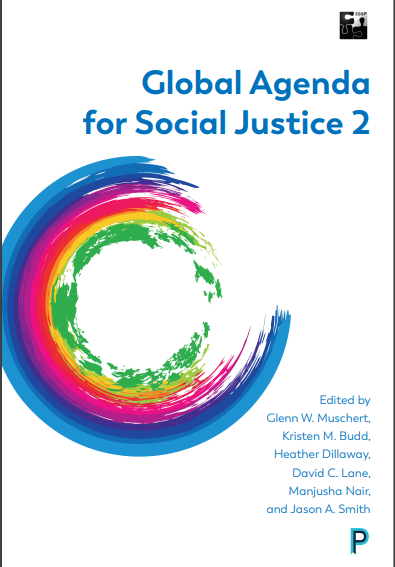 Access Options
The Global Agenda for Social Justice 2 is now available for wide public distribution
As a benefit for all current SSSP members, a gratis electronic copy of the Global Agenda for Social Justice 2 is provided. For access please click here. You will be required to log in using your e-mail and password. If you have forgotten your password, you may enter your e-mail address below the login area, and your password will be e-mailed to you. If you have recently changed your e-mail address, you will need to login using the address SSSP has on file for you. If you have any questions or need assistance, please contact SSSP at sssp@utk.edu.

Purchasing Options
The Agenda is available in paperback copy and e-reader versions for a nominal fee. Please consider purchasing the Agenda to support the SSSP! Policy Press offers 25% off all books to SSSP members throughout the year with the code SSSP25.

Click here for Policy Press purchasing information.
Table of Contents
Editors: Glenn W. Muschert, Kristen M. Budd, Heather Dillaway, David C. Lane, Manjusha Nair, and Jason A. Smith
Front Pieces
President's Welcome
by Noreen M. Sugrue

Editorial Introduction
by Glenn W. Muschert, Kristen M. Budd, Heather Dillaway, David C. Lane, Manjusha Nair, and Jason A. Smith
About SSSP

Foreword
by Margaret Abraham
SECTION I TOPICAL PIECES

Chapter 1. The Challenge of Global School Segregation
by Charity Anderson
Chapter 2. The Authoritarian Backlash Against Education Justice for Lesbian, Gay, Bisexual, Transgender, and Queer Youth
by Madelaine Adelman and Eliza Byard
Chapter 3. From the Streets to Social Policy: How to End Gender-Based Violence against Women
by Özlem Altıok
Chapter 4. Fatphobia
by Laurie Cooper Stoll, Angela Meadows, Stephanie von Liebenstein and Carina Elisabeth Carlsen
Chapter 5. Opioid Abuse and Evidence-Based Practices for a Global Epidemic
by Andrea N. Hunt
Chapter 6. Water Justice as Social Policy: Tackling the Global Challenges to Water and Sanitation Access
by Marie Carmen Shingne and Stephen P. Gastey
Chapter 7. COVID-19 Vaccine Inequity
by Seow Ting Lee
Chapter 8. The Problem of Insecure Community Health Workers in the Global South
by Catherine van de Ruit and Amy Zhou
Chapter 9. Sub-Saharan Africa's Digital Poverty in Perspective
by Ahmed Badawi Mustapha
Chapter 10. Climate Change, Migration, and Language Endangerment in the Pacific
by Jason Brown and John Middleton
Chapter 11. Reimagining the Climate Crisis as a Social Crisis
by Marko Salvaggio
SECTION II REFLECTION PIECES
Chapter 12. Invitation to Transnational Sociology
by John G. Dale and Ivan Kislenko
Chapter 13. Global Social Justice Research, Teaching and Activism: A Global Turn in Sociology?
by Jerry A. Jacobs and Elinore Avni
Chapter 14. A Sociology of Hope: Why We Need a Radical Action Agenda for Social Justice
by Corey Dolgon
Afterword
by Héctor L. Delgado
Endorsements
"This book addresses an array of key global social problems the world is facing today, and the necessary recommendations on how to solve them."
Shirley A. Jackson, Portland State University