Latest SSSP News
Archives - May 2013
May 15, 2013
The Preliminary Program is now available online!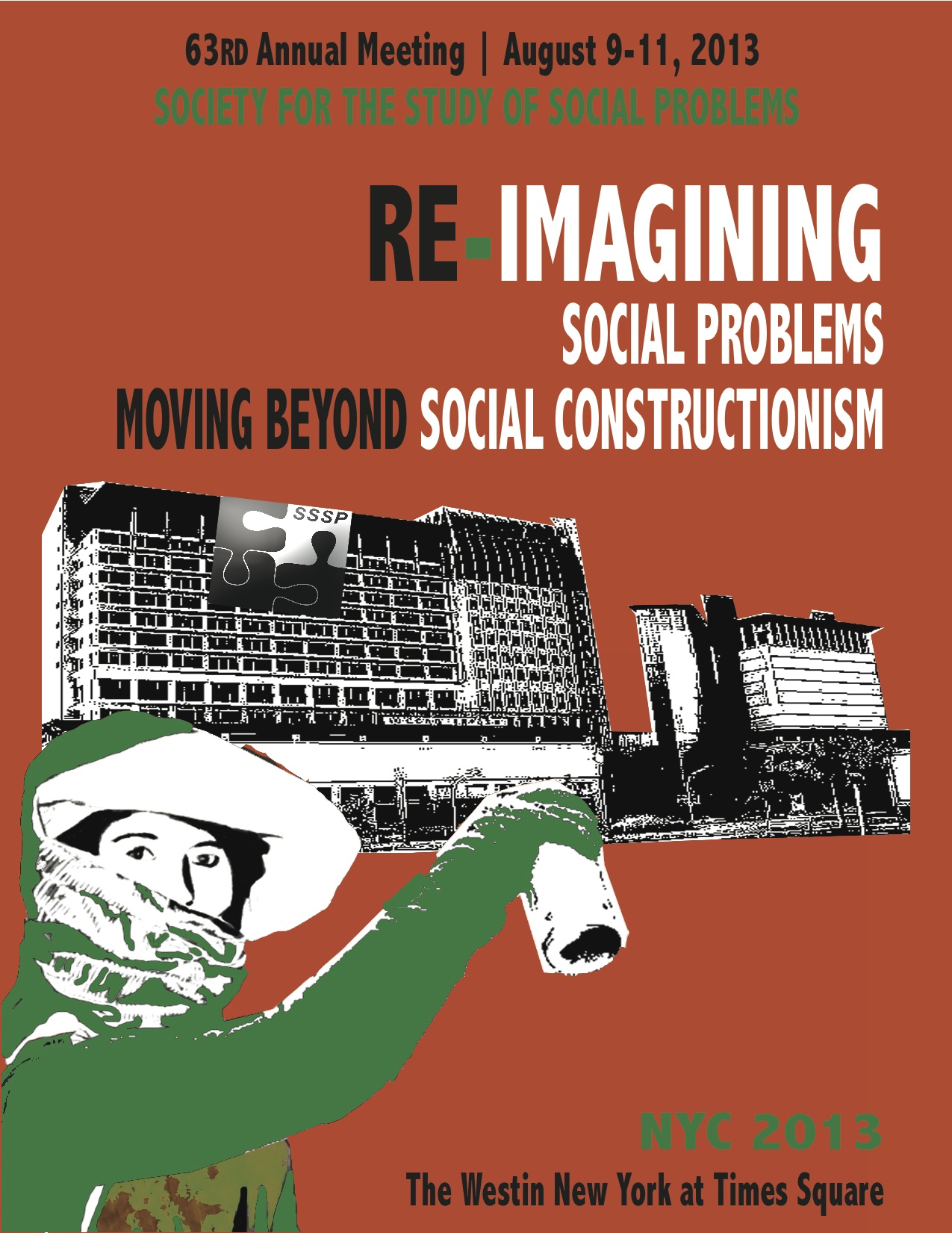 The preliminary program for the 63rd Annual Meeting of the Society for the Study of Social Problems is now available!

President R. A. Dello Buono and his Program Committee have worked diligently to organize workshops and collaborative sessions on the theme: Re-imagining Social Problems: Moving Beyond Social Constructionism. As a collective project of scholar-activists, the SSSP is all about making real social change happen. In New York City, we invite participants to challenge established views and contemplate the limits of existing approaches to social problems, including those of social constructionism. We call on progressive analysts and social practitioners alike to join us at the Annual Meeting to collectively re-imagine social problems in a space where you can "say it out loud."

Please click below to review the program, make your travel arrangements, and pre-register for the conference. We look forward to seeing you from August 9-11 at the Westin New York at Times Square in New York, New York.
http://www.sssp1.org/index.cfm/m/544/m/544
05/15/2013, 12:40 PM
May 10, 2013
Announcing the 2012 C. Wright Mills Award Finalists
The 2012-13 C. Wright Mills Award Committee is pleased to announce the 5 finalists for the 2012 C. Wright Mills Award. The finalists are:
David Cunningham, Klansville, U.S.A.: The Rise and Fall of the Civil Rights-Era Ku Klux Klan, Oxford University Press
Cybelle Fox, Three Worlds of Relief: Race, Immigration, and the American Welfare State from the Progressive Era to the New Deal, Princeton University Press
Matthew W. Hughey, White Bound: Nationalists, Antiracists, and the Shared Meanings of Race, Stanford University Press
Alondra Nelson, Body and Soul: The Black Panther Party and the Fight against Medical Discrimination, University of Minnesota Press
Susan Crawford Sullivan, Living Faith: Everyday Religion and Mothers in Poverty, University of Chicago Press
The committee reviewed 67 nominated books to select the five finalists. The committee will select the final winner prior to the Annual Meeting and announce the winner at the awards ceremony in New York, NY. All finalists' books will be recognized in the 2013 Annual Conference program and at the ceremony.
To an outstanding degree, each of the finalists met the criteria for the award:
Critically addresses an issue of contemporary public importance.
Brings to the topic a fresh, imaginative perspective.
Advances social scientific understanding of the topic.
Displays a theoretically informed view and empirical orientation.
Evinces quality in style of writing.
Explicitly or implicitly contains implications for courses of action.
Click here for the 2012 C. Wright Mills Award Finalists webpage.
05/10/2013, 12:59 PM
May 01, 2013
Social Problems 60.2 is now available online
Social Problems 60.2 is now available online!
Click here to access the latest issue.
Table of Contents
Counting Care Work: The Empirical and Policy Applications of Care Theory
Mignon Duffy, Randy Albelda, and Clare Hammonds
Glass Cliffs and Organizational Saviors: Barriers to Minority Leadership in Work Organizations?
Alison Cook and Christy Glass
A Test of the Temperance Hypothesis: Class, Religiosity, and Tolerance of Prostitution
Liqun Cao and Edward R. Maguire
Limited Engagements? Women's and Men's Work/Volunteer Time in the Encore Life Course Stage
Phyllis Moen and Sarah Flood
A Mark of Disgrace or a Badge of Honor?: Subjective Status among Former Inmates
Jason Schnittker and Valerio Bacak
Broad Reciprocity, Elderly Poverty, and the Retiree/Nonretiree Cleavage in the Demand for Public Retirement Income
Juan J. Fernández
05/01/2013, 03:21 PM
May 2013
Sun
Mon
Tue
Wed
Thu
Fri
Sat
1
2
3
4
5
6
7
8
9
10
11
12
13
14
15
16
17
18
19
20
21
22
23
24
25
26
27
28
29
30
31
Categories
Monthly Archives
Recent Posts