Latest SSSP News
Call for Books for the 2023 Annual Meeting – Author Meets Critics Sessions Deadline Quickly Approaching 12/15/22
Proposals for the Call for Books for the 2023 Annual Meeting – Author Meets Critics Sessions must be submitted to Program Chair, Mary Romero, by December 15, 2022. The Program Committee will select two books to be featured on the program.
Proposals must include:
Complete Book Title (include publisher name and publication date)

Brief statement (200 words maximum) about the book's importance to the study of social problems and the advancement of social justice in general, as well as the relevance of the book for the annual meeting's theme

Session Organizer(s), including their e-mail address(es)—authors cannot serve as session organizers

A list of potential critics, including their e-mail addresses
For questions, please contact Program Chair Mary Romero at programchairsssp2023@gmail.com.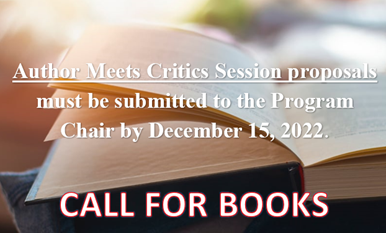 Posted Tuesday, 12/13/2022, 12:24 PM - Comments - Category: Member News
March 2023
Sun
Mon
Tue
Wed
Thu
Fri
Sat
1
2
3
4
5
6
7
8
9
10
11
12
13
14
15
16
17
18
19
20
21
22
23
24
25
26
27
28
29
30
31
Categories
Monthly Archives
Recent Posts